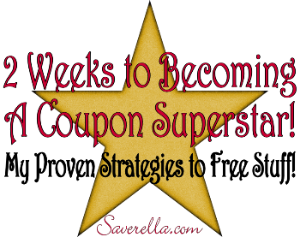 Ever looked at a coupon? See all those little words on the bottom, otherwise known as the fine print? Well, I can't stress enough how important it is to read and know what it says.
Some of the info that can be found on them:
Size and product specifications
- For instance you have a coupon for V8 but it may say you can only use it on the 20 oz, Vanilla flavor.
Limit usage-
One Coupon Per Purchase- This means you can use ONE coupon for EACH item purchased. Let's say you buy a bottle of juice and use a coupon, this is okay. Now, let's say you buy one bottle but have two coupons, you cannot use both. It is one manufacturer coupon per item. What you can do is buy 2 and use 2 coupons.
One Coupon Per Transaction- This means you can only use one coupon on the intended item for each transaction. To be able to use two you would have to separate your order, buy one use your coupon and pay. Now do it again.
One Coupon Per Customer/Household- Pretty much what it says you can only use one. If you want to use another you'd have to make multiple trips.
Do Not Double- It is not meant to be doubled. Although if the coupon starts with a 5 it will double automatically, if it starts with a 9 it won't.

Reading and following what your coupon says will help your check-out process go smoothly. Plus, if there is a problem you can stand there with confidence knowing you have used your coupon correctly.

Go to Day 6.